Wheat Production in India
Even as this article is being written, there is a lot of conversation going on about India's wheat crisis. Heatwaves, government announcements, wheat prices, export demand, and availability of wheat stocks are some of the components of the ongoing situation as far as wheat production in India is concerned. It would therefore be relevant to look at this scenario. 
 
Wheat in India
Wheat is one of the main cereal crops in India along with rice, maize, paddy, millet, sorghum, & barley. India is one of the largest exporters and producers of cereal crops in the world. Our country's capacity to produce cereals has put it on the global map in second position. Cereals are exported to countries such as Iran, Saudi Arabia, Vietnam, and more. Last year, India was the fifth largest exporter of cereal in the world and cereals such as wheat accounted for 24% of Indian exports in 2020-21.
The largest area under wheat cultivation is in the North Western Plains Zone, as per the Department of Agriculture & Cooperation and Farmers Welfare. This zone accounts for approximately 11.55 million hectares under wheat cultivation. The second largest zone under wheat cultivation is the North Eastern Plains Zone with 10.5 million hectares.
States such as Uttar Pradesh, Gujarat, Punjab, Haryana, Rajasthan, Madhya Pradesh, Bihar, & West Bengal are in the top ten with Uttar Pradesh leading the list. UP's wheat production accounts for around 37% of the wheat produced in India. The main reasons for these elevated levels of wheat cultivation in this region are:
The mineral soil found in this region

Fertility of the soil thanks to the Ganges River basin

Irrigation facilities and

Agricultural practices
Diverse types of wheat grow in different states too. So, if Tamil Nadu & Karnataka are most associated with Emmer wheat then UP and Madhya Pradesh are known for Indian Dwarf wheat & Common Bread wheat.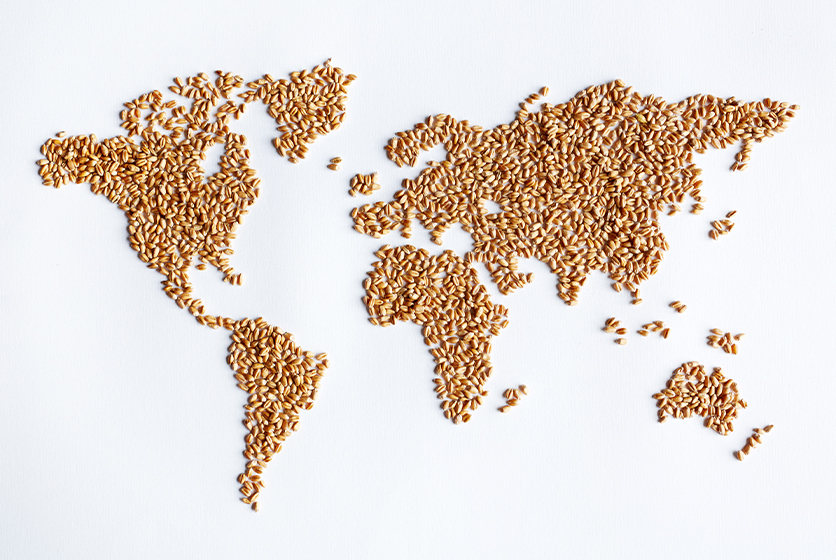 Wheat production
In June 2022, India's wheat production estimates were lower than before. The government pegged the figure at 105 million tonnes, 5.7% lower than the projected figure of 111.32 million tonnes. The main reason for this dip in production is the weather condition. Unseasonable heat waves in the traditional wheat growing states of Uttar Pradesh, Madhya Pradesh etc have been primarily responsible for the fall in production. However, there was an increase in overall food grain production.
 
Given the reduction in wheat production, there is also a dip in government procurement and an impact on the public distribution system of wheat as well. In the global arena, wheat supply is going through multiple challenges due to the war in Ukraine. Estimates for wheat production will get revised as the year unfolds and this will also affect the exports of wheat.
 
The government of India banned wheat exports as well. As of August 2022, it was also reported that wheat stocks with the Food Corporation of India had also depleted significantly. Striking a healthy balance between the country's own requirements of wheat and supporting export commitments will be essential in more ways than one.