Agriculture sector is the largest 'employer' in India and according to the Food and Agriculture Organization of the United Nations, 70% of rural households depend on agriculture for their livelihood. In terms of global ranking, India figures amongst the top 5 for the production of:
Milk

Rice

Cotton

Sugarcane

Fruit and

Vegetables
When it comes to vegetable production, India ranks second in the world and accounts for 8.6% of the global production. It is therefore interesting to look at what vegetables India grows and where does it do so.
 
Geographical conditions
India has a great combination of arable land and multiple climatic zones. This unique combination supports the cultivation of multiple types and substantial numbers of vegetables. Indian Council for Agricultural Research (ICAR) has divided India into eight agro-climatic zones such as humid to semi-arid, arid western plain, humid western Himalayan region and so on. Every zone has a unique combination of soil type and weather conditions that help grow specific types of vegetables.
 
Some of the main types of vegetables grown in India are:
Ginger

Okra

Potato

Onion

Tomato

Cauliflower

Beans to name just a few
The top 5 vegetable producing states are:
West Bengal

Uttar Pradesh

Bihar

Andhra Pradesh and

Madhya Pradesh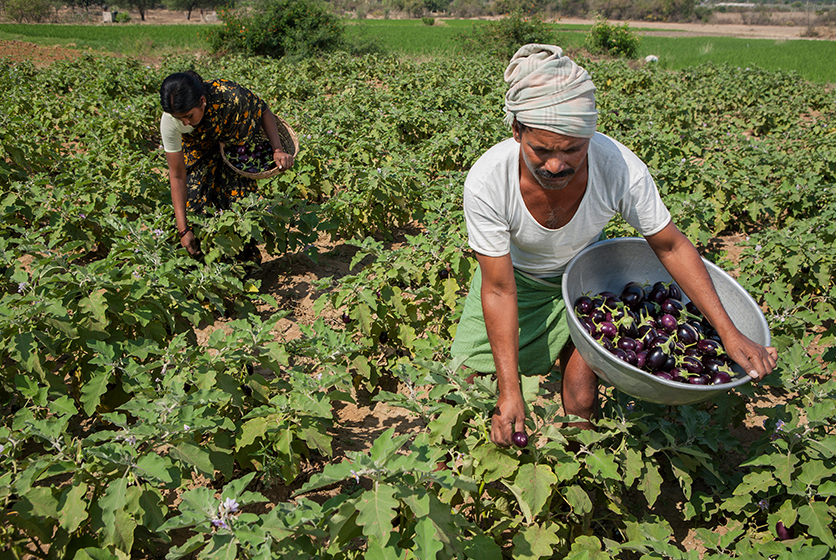 Cultivation in the states
According to the National Horticultural Database, India produced 200.45 million metric tonnes of vegetables in 2020-21. And according to the Ministry of Agriculture, production is set to increase even more in categories such as potatoes, onions, and tomatoes. West Bengal is known for its cauliflower, tomatoes, cabbage, and okra. Beans are produced in Bihar and gourds in Madhya Pradesh and Uttar Pradesh. Gujarat & Odisha produce brinjals and cabbage grows well in Assam too. Telangana and Karnataka produce cucumbers and Tamil Nadu is associated with tapioca, and moringa as well.
 
India produces every kind of vegetable – leafy greens, salad vegetables, root vegetables, "flower vegetables" such as broccoli, "fruit vegetables" such as tomato, and peppers and bulb vegetables such as onions and fennel.
 
The crops are managed according to factors such as:
Season

Method of sowing

Sowing distance & depth and

Germination temperatures too
For instance, if carrots are sowed directly into the soil between August to November, cabbage is sowed via transplanting between September & October. Pumpkin (which is known as India's national vegetable) is sown almost through the year, and almost all over India via direct planting method. 
 
Vegetable exports
India is one of the largest exporters of vegetables as well. Countries such as Oman, UAE, UK, and Bangladesh are a few of the importers of India's vegetables. India exports fresh and processed vegetables such as onions, gherkin, cucumbers, garlic, potatoes, and tomatoes to name just a few. According to the Ministry of Commerce & Industry, India's exports of vegetables (& fruit) has registered an 8.6% growth. It is also interesting to note that processed food and agricultural exports are up by 14% in the first few months of the fiscal period of 2022-23.
 
Indubitably, India's strength in growing and exporting vegetables is significant enough to help the country keep its second position in the global ranking.