Solar power and Agriculture
Isn't it interesting to know that the energy consumption of the entire world for a year can be handled by the sunlight that hits Earth for just under 2 hours? Small wonder then that solar power is being harnessed by households, industries, various kinds of commercial enterprises and even agriculture.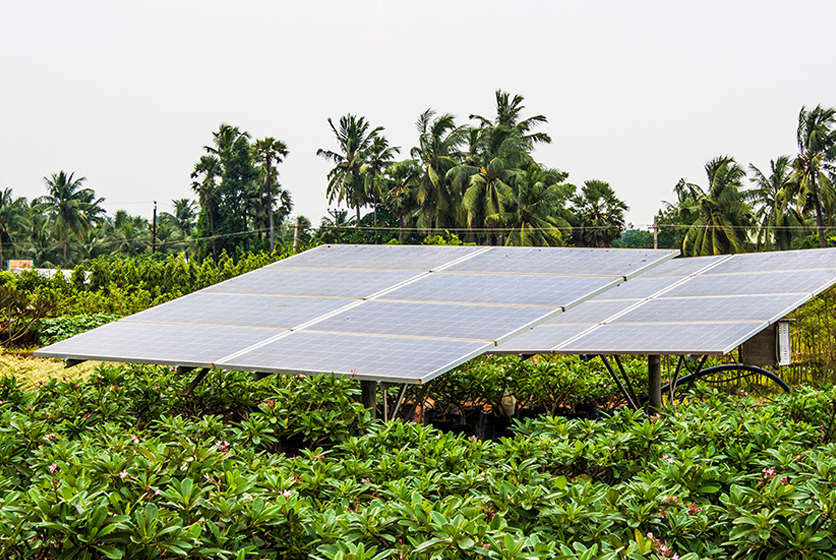 What's solar power doing in agriculture?
In a very natural way, sunlight does play a huge role in crop health - plants need and use sunlight for nutrient production and absorption, photosynthesis and so on. But when one talks of solar power and its application in agriculture, it takes on myriad forms such as:
Manufacturing equipment such as submersible pumps that run on solar power

Power generation for irrigation and other uses

Dryers and other equipment that run on solar energy

Greenhouses

Lighting solutions and so on
One of the biggest areas of development and debate is in solar-powered agriculture pumps for irrigation. 
Solar powered pumps
Any pump that runs on photovoltaic cells or some form of energy generated by sunlight is a solar water pump. This kind of a pump does not draw energy from the power grid nor from a conventional fuel source such as diesel. By and large, solar pumps are associated with cost savings and power efficiencies too. A solar pump system of 1000 Wp (kilowatt-peak) can result in a savings of around Rs.45,000 per annum. 
There are a handful of manufacturers of solar pumps in India and most companies are investing resources in specific locations in India to work on and develop the adoption of solar power.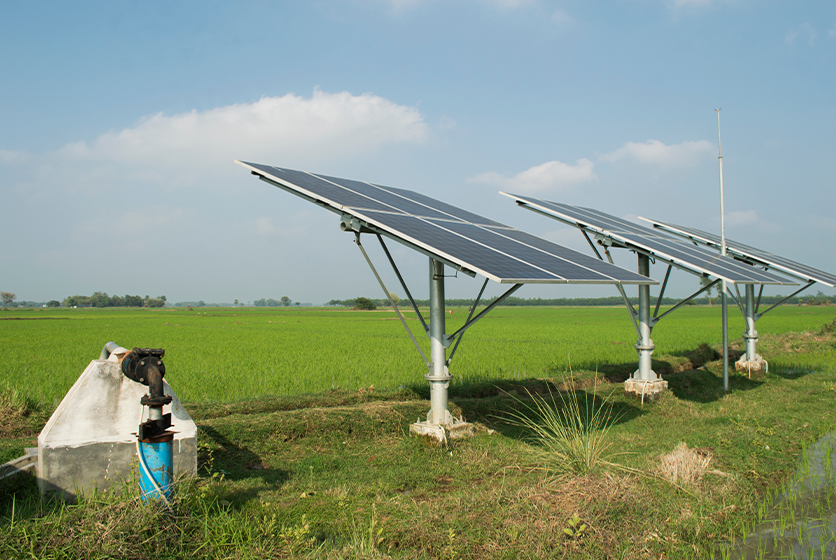 Status in India
As far as government support goes, India has the PM-KUSUM scheme which was launched in the year 2019. Some of the main components of this scheme are:
90% subsidy availability for agriculture solar pumps

The solarisation of 10 Lakh Grid Connected Agriculture Pumps 

Support for individual farmers who want to install stand-alone solar agriculture pumps

Setting up of renewable energy power plants as well
Over a period of 2 years, the benchmark costs of providing capital subsidies have also reduced by over 35%. Experts state that it may be more feasible to build a community solar plant which can provide energy to individual farmers via feeders. India has set a target of 100 GW or gigawatts of solar capacity by the year 2022 and we are at around 35 GW currently with another 22 GW in the work-in-progress stage. 
States such as Karnataka, Maharashtra, Rajasthan, Odisha, Tamil Nadu & Uttar Pradesh are doing noteworthy work in this sphere. Tamil Nadu, for instance, plans on installing 5000 solar pumps for a 70% subsidy.
The International Water Management Institute has also urged farmers to think of selling solar power, as a source of remuneration to the main grid. With greater adoption, solar power can become a 'cash crop' of sorts for farmers. 
Connected to the growth of solar power adoption, there are added benefits such as reduction in usage of diesel and cost of subsidies as well. Sunlight can be energising in so many ways!