Risk Management in Agriculture
A farmer is an optimist - they know all the risks involved in agriculture and yet, approach this job with hard work, determination and perseverance. 
What constitutes agricultural risk?
Broadly speaking, there are 5 main categories and a single factor or a combination of factors can affect almost any farmer:
Production risks - vagaries of weather, attacks by pests, plant diseases and so on.

Price factors - farmers have to deal with market uncertainties too. They may not always get a fair price for their produce.

Financial uncertainties -  related to changes or fluctuations in interest rates, cash flow issues etc.

Policy-level changes - government policy changes pertaining to all aspects of agriculture

Personal problems - while this can affect virtually anybody in the world, a farmer may be especially vulnerable when they are small landholders and have no backing from institutions or banks and so on.
It therefore becomes important to know and implement proper risk management techniques.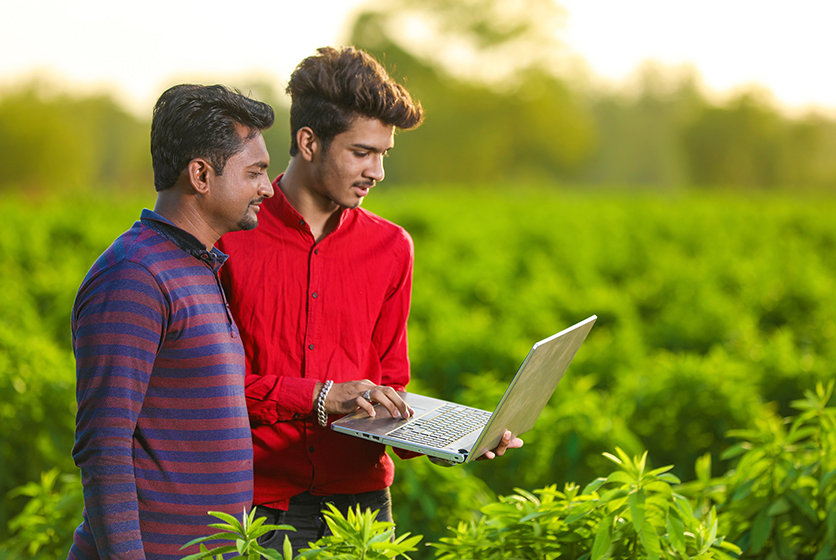 Forecasting
India has a response mechanism in place for primary and even secondary fallouts of climate variations. But, more work needs to be done to implement a tertiary mechanism which relies on generation of information before an event can occur. This will entail:
Early warning systems

Climate forecasting

Robust database on agriculture losses that have been taking place over time

Climate change response system and so on
These mechanisms can give farmers advance notice on how natural factors may impact their production plans and more importantly, it will give them time to prepare for the impact as well. 
Crop insurance
India has, in the past introduced schemes like National Agricultural Insurance Scheme, National Crop Insurance Programme and the Pradhan Mantri Fasal Bima Yojana (PMFBY). The PMFBY has seen a fall in coverage due to financial constraints by the State governments. Having said this, there are other agencies that offer insurance too. A farmer can avail of some form of insurance as a layer of protection and risk mitigation. 
Agtech
Agriculture technology is a strong player in Indian farming today. This 'specialised' tech is not just about harnessing GPS to oversee fields but also about information on the best agriculture loans, keeping pace with policy changes in real-time and tracking market prices across the country. Precision farming tools and expansions in the knowledge base go a long way in helping farmers mitigate agriculture risks.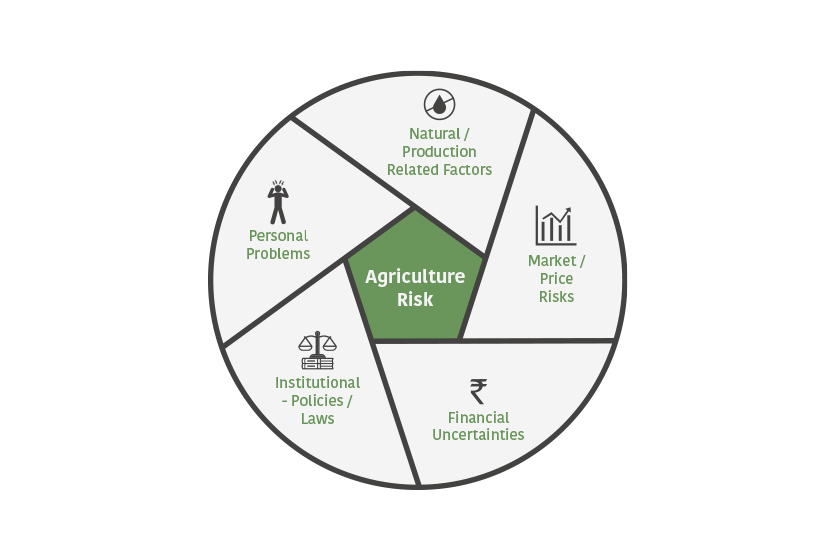 Institutional support
Creation of communities such as Farmer Producer Organisations and connecting them through the length and breadth of the country is effective. Such a network of communities helps farmers tap into the collective wisdom of experience and local practices too. States like Madhya Pradesh, Maharashtra and Karnataka have the highest number of FPOs currently. 
Methods like crop diversification also contribute to risk mitigation. New developments and innovations like hydroponics, nano technology and agroforestry, to name just a few are all making inroads into revolutionising agriculture in different ways.
As with so many other facets of life, information is a powerful tool in making smart decisions and with the confluence of technology, traditional knowledge and changing agricultural practices, farmers are getting better ways of combating risk and staying optimistic too.