Rice Crops & Production in India
It is rather interesting to see the different kinds of answers one gets to the question, "How many types of rice does India grow?" Someone might say that we have around 50 types of rice. Yet others will tell you it is 5!. You will also get to hear about different types of rice cultivars and regional differences in rice production.
One thing is for certain - rice is the most important and prolific crop grown in India. And here are a few more interesting facts about rice:
India is the largest exporter of rice

Our country is in second position when it comes to rice production in the world

 

A large number of states cultivate rice

The leading rice-producing states are West Bengal, Uttar Pradesh, Punjab, Tamilnadu and Andhra Pradesh

92% of rice production in India is concentrated in the north-eastern, south and south-eastern regions

India produces 1/5

th

of the world's supply of rice

44 million hectares

- is the approximate extent of land under rice cultivation in India
Rice production
According to official estimates, food grain production is set to touch the 150 million ton mark in 2021-22. Last year, kharif rice production was 104.41 million tonnes and this year, it is estimated to reach 107.04 million tonnes.
Rice grows in different types of climatic zones in India and different regions produce 'signature' rice crops. For instance, medium grain varieties grow in Assam (Aizon), Odisha (Balami), West Bengal (Bhut muri) and Kerala (Gandhakasala). Long grain varieties grow in Karnataka (Gandhsale) and Punjab & Haryana (Mogra, Basmati). Short grain varieties grow in Maharashtra (Ambemohar), Andhra Pradesh (Jeera samba) and Tamilnadu (Kullakar). These are just a handful of the types of rice produced in India.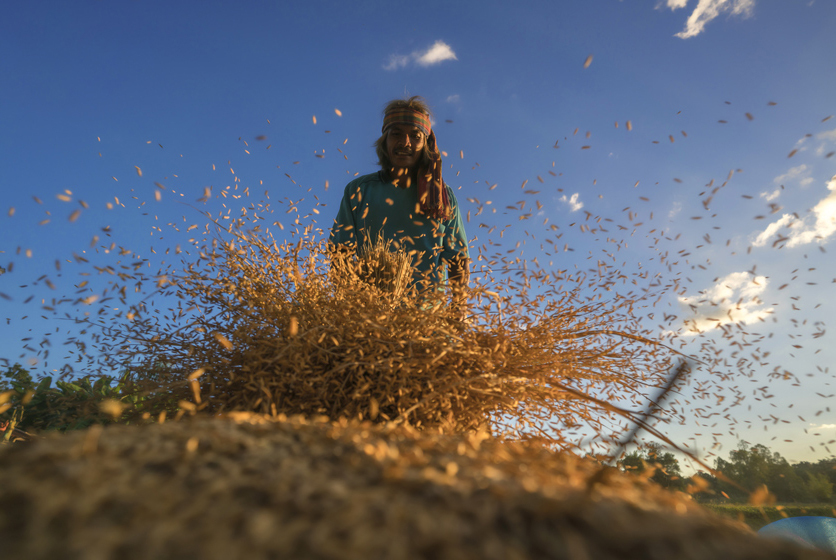 Methods of rice production
Naturally, factors such as region, climate, soil types and rainfall / water availability will dictate the nature of rice production. But, by and large, rice is grown after selecting the right quality of seeds. Thereafter, if the region is dry or semi-dry, cultivation starts with broadcasting the seeds or sowing with the help of a plough. For wetland cultivation, farmers can transplant seeds in fields that are puddled with water.
Seed treatment, weed management, fertiliser and crop management are, like with every other crop, important aspects of cultivating rice fields. Price management is also an important aspect and it is useful to note that Minimum Support Prices (MSP) for Kharif Crops play a role here. And the government has set MSPs for kharif crops for rice as well. 
Exports
India is doing enormously well in rice exports. Record exports in basmati and non-basmati are ensuring that India's rice is feeding the world! China has started importing non-basmati rice from India. 
The government is estimating that India will overtake the 17.72 million tonne (2020-21) mark this year. 80% of exports of long grain rice from India reach consumers in countries like the USA, UK, Saudi Arabia, Iran, Yemen, Iraq and Oman to name a few. Growing demand from countries like Vietnam and Bangladesh will add to growth in exports as well.