There are different kinds of irrigation methods when it comes to agriculture. Broadly speaking, farmers use systems such as the following:
Sprinklers

Subsurface irrigation

Drip or trickle system and

Hose-end method too. 
There have been quite a few innovations in irrigation systems and one such innovation is micro irrigation.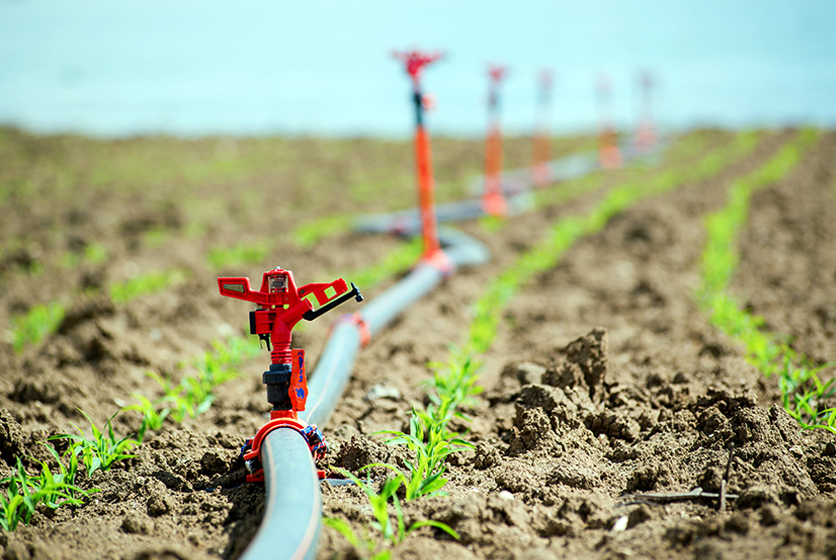 What is micro irrigation?
There are two salient features of micro irrigation - low volume and localised pattern of water distribution. There is a piped network, much like conventional drip irrigation, but the pressure and volume of the water is much lower. Think of it as a drop-by-drop application of water, very close to the plant roots. This method is especially helpful in eliminating or at least significantly reducing soil run-off.
In terms of 'hardware', micro irrigation systems have motors, filters, tubes and emitters. One of the critical activities to be performed for a micro irrigation system is filtration and cleaning - timely removal of sediments, algae and particles is important so that the tubes continue to deliver productively. 
Benefits of using low volume irrigation
Apart from preventing and minimising run-off, micro irrigation also helps in:
Increasing water efficiency and in decreasing water consumption

Dealing with undulating terrain - hilly areas 

Water absorption in soils that are slow-percolating like clayey soil

Helps in delivery of fertilisers too
Given that there is a very real need to optimise resources and reduce environmental impact, solutions like micro irrigation are powerful tools for farmers. A farmer can also reduce the need for labour when it comes to irrigation and this can help make their farms more profitable as well. 
Micro irrigation helps with the very real problem of water scarcity. Agriculture, in India, uses up around 90% of the 761,000 billion litres of annual freshwater withdrawals. The farmers' need to make every drop count towards sustainable agriculture is aided greatly by using micro irrigation.
Challenges of micro irrigation
It is an expensive system and also needs constant maintenance. Depending on the size of the farm and the kinds of crops grown, micro-sprinklers and mini-sprinklers can cost $866 and $12500 per hectare, according to the National Mission on Micro-Irrigation (NMMI). 
Maintenance of such a system entails:
Clearing of any clogs - especially in the component known as emitters

Repairing damage caused by rodents

Cleaning of the pipes frequently as well
It is also true that adoption of this system of irrigation has been, to date, slow and low. For instance, states like Karnataka, Andhra Pradesh, Sikkim & Maharashtra are leading in drip irrigation but 27 states have less than 30% of their farms being looked after by micro irrigation. 
However Central schemes such as Pradhan Mantri Krishi Sinchayee Yojana with a focus on Per Drop More Crop are trying to enhance the adoption of micro irrigation. And states like Tamil Nadu & Karnataka have tapped into these benefits as well. Tamil Nadu has put 8,06,966 hectares under micro irrigation. 
With increasing awareness of the fact that micro irrigation can help save expenditure on power, fertilisers, and water - there should be more wide scale adoption of this system in the near future.