Fertigation in Indian Agriculture
Farmers everywhere have to balance many factors, inputs and investments in order to ensure productive fields and healthy crops. Some of these inputs are:
Choosing healthy seeds

Activities such as tilling, weeding, harvesting and so on

Investing in the right machinery

Deploying right labour at the right time and

Choosing the right balance of 'food' for the crops in terms of fertilisers and nutrients
There are many ways in which farmers deliver this 'food' to their crops and one such method is fertigation. 
Fertigation
Drip irrigation is a method that has gained a lot of popularity everywhere because it helps save water and labour. This kind of irrigation relies on a network of pipes that deliver water in close proximity to the roots of the crops. This also ensures the least amount of wastage in water. 
Fertigation is nothing but the use of this drip irrigation system to deliver fertilisers as well. In fact, drip irrigation can also be used in multiple ways and terms such as 'chemigation' and 'nutrigation' have also become common these days. 
Nitrogen is the most commonly used nutrient in fertigation. Water soluble fertilisers are also highly preferred in this system. Other fertilisers are: urea, ammonium nitrate, potassium sulphate and phosphoric acid to name a few. 
Setting up a fertigation system will entail a suitably sized tank to hold the fertilisers and a drip irrigation network system. The addition of timers and pumps will give farmers additional control over the entire system
Benefits of fertigation
By using the drip irrigation network to deliver nutrient and fertilisers to crops, farmers can tap into benefits such as:
Cost-effective and efficient delivery of nutrients

Improving the impact of fertilisers with highly localised delivery

Reducing the quantity of fertilisers needed for crops

Enhanced uptake of nutrients and

Reducing the loss by leaching
According to a study by the Tamil Nadu Agricultural University (TNAU), fertiliser use efficiency goes up by 80 to 90%. It is possible to control the amount, location and rate of application with fertigation.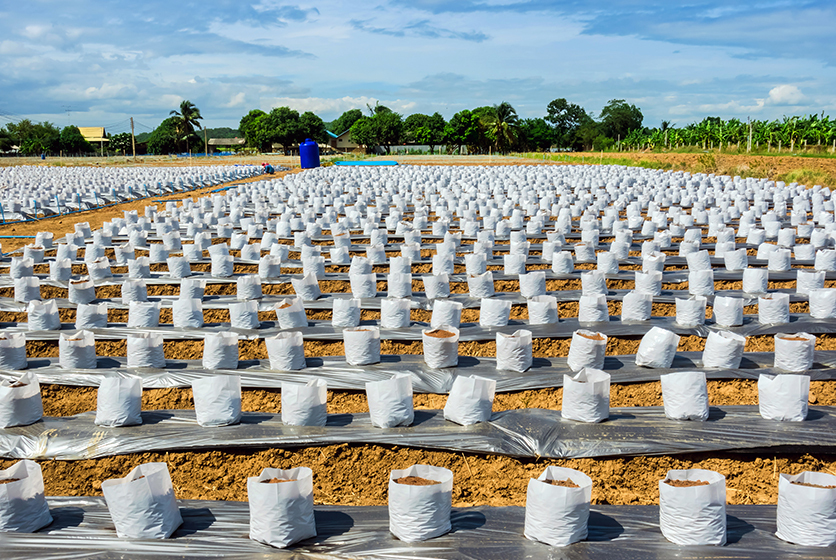 Status in India
It is interesting to see that fertigation is gaining traction because more and more farmers are adopting micro-irrigation methods. By using the drip irrigation system, farmers are able to deliver vital nutrients and pesticides to their crops in a timely and effective manner. It has also been found that fertigation helps in keeping weeds in check. 
Farmers are combining traditional knowledge with fertigation. Soil type, level of moisture in the soil and the existing quantities of  Nitrogen (N), Phosphorous(P) and Potassium (K) in the soil are important parameters to consider while scheduling the deployment of fertigation.  
It is also becoming popular with new generation farmers. By using drip irrigation in small pieces of land, farmers are able to use fertigation very effectively to improve crop yield as well. 
Such is the popularity of drip irrigation that TNAU is looking to collaborate with Israel in multiple ways to promote this system of crop nutrition. Fertigation has proven its usefulness to Indian agriculture in more ways than one and it would be interesting to see how more and more farmers adopt this technique for their crops.