Pump ordering enters a new generation
New website launch from Texmo Industries keeps up with India's burgeoning ecommerce market.
Texmo Industries have launch their new website today, https://www.taropumps.com, which promises to bring an ease to pump ordering like never before.
The website features an algorithmically powered pump selector. The user simply answers a few questions and the technology will reduce the range of over 900 different pumps, sizes and powers, down to just one perfect choice.
It is expected that the new resources from Taro will lower the average time customers need to spend in a dealership; from 45 minutes to just 15 minutes.
The website allows the customer to find their local dealer on a map and grab their contact details and company information. This process is easy and the given dealers and locations are clear.
A hub for dealers allows them to track stock levels, pump order status and more. This further reducing ordering problems and providing security for those whose livelihood depends on these pumps.
The reason why these changes are so important is simple; India is more online that ever before.
The number of internet users has risen from 90 million in 2010, to 462 million today, an increase of more than 400%.
This explosion could lead to an entirely different way of shopping in India. Discerning customers use the internet to find products which represent the best value for money. As yet the pump industry hasn't caught up, even though data shows that searches in this area are increasing: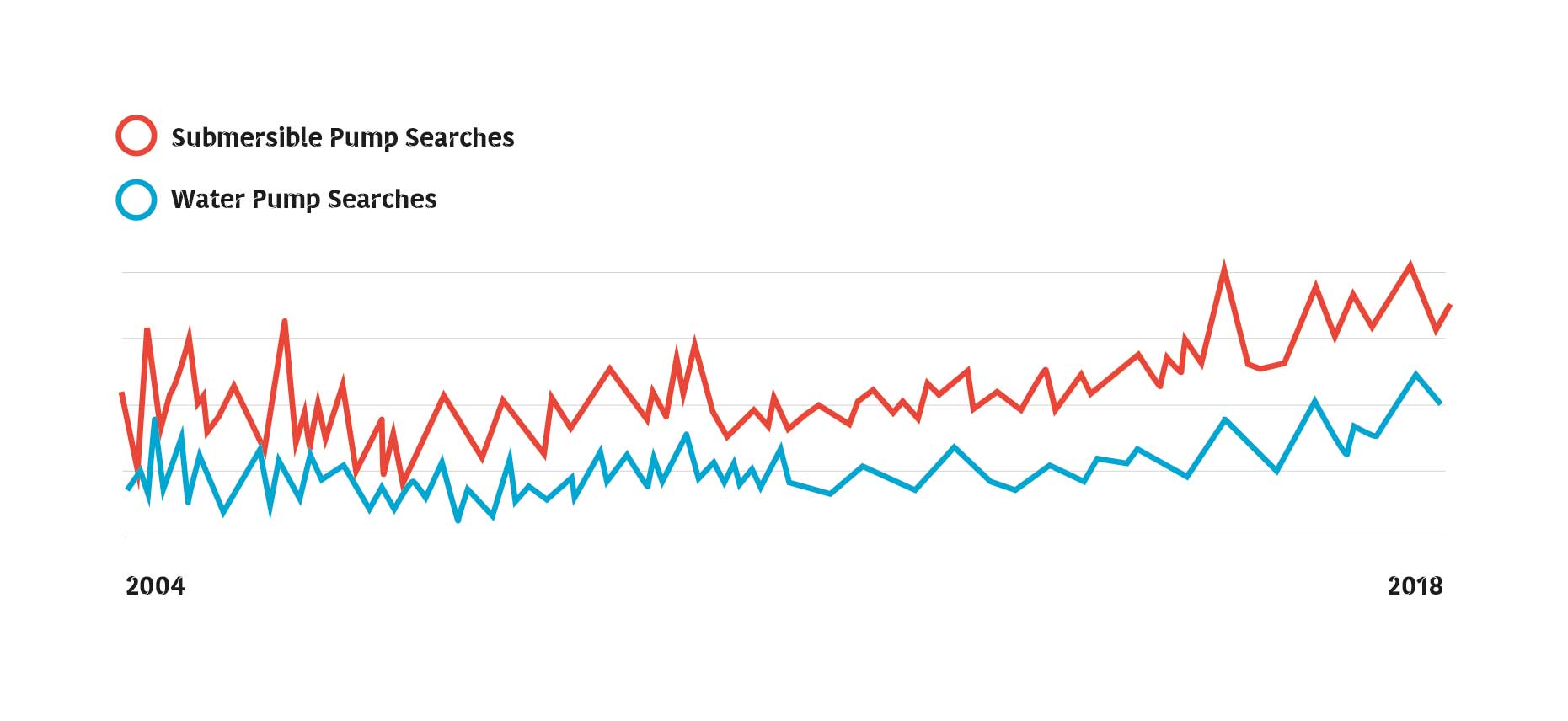 Even more evidence for the shift in shopping habits, the ecommerce sector in India is set to grow from 11 billion in 2014, to 260 billion in 2025.
Damayanti Ramachandran, Texmo Industries Managing Director, says "We have always tried to stay ahead of the curve, and the launch of the Taro Pumps website represents a commitment to shoppers of the future, whilst making sure that more traditional shoppers can benefit too."
The new Taro pump selector helps customers by simply answering questions about their pump. The algorithm will then take those answers and inform the customer which pump is right for them. They can then connect with their local dealer using the dealer discovery.
See the pump selector: https://taropumps.com/product-selector
About Texmo Industries
Since 1956, Texmo Industries has manufactured the most innovative and highest quality pumps and electric motors for a range of applications in agricultural, domestic and industrial sectors. Our customers have found our products to be the most reliable and robust in the market. Add to this we are the only manufacturers to offer a 2-year worry free warranty.